Age Is No Barrier
With 70 years separating them, two recent Tongariro Alpine Crossing hikers have proved age is no barrier to enjoying this iconic trail.
---
With 70 years separating them, two recent Tongariro Alpine Crossing hikers have proved age is no barrier to enjoying this iconic trail.
Joan from Wales and Auckland lad Jarvis were both guests at Tongariro Crossing Lodge in National Park Village during the summer - with Joan in her late 70s and Jarvis all of 6.
For Joan, completing the Tongariro Alpine Crossing was a personal challenge she looked forward to tackling before even arriving in New Zealand, after friends told her all about it.
"A neighbour of mine, with whom I do a lot of walking, did the Crossing and recommended I do it as well," says Joan. Although a keen hiker, who often walks 4 to 5 miles a day, Joan opted for a guided Tongariro Alpine Crossing trip with Adrift Outdoors to help her complete the goal.
So, how did it go? Here's Joan's report:
To reach the summit it is a hard and very steep climb, but the stunning scenery is the tonic which spurs you on.
Having reached the summit, we enjoyed a well-earned rest.
Then you begin the descent from the Red Crater summit. There is no clearly defined track here, as the ground is soft sand and gravel, so great care is needed to find firm footholds so you do not slide down the steep slope. The views of the Emerald Lakes are fantastic.
Once you reach the other side of Mt Tongariro, you can see the track ahead winding down the mountain and you realise there is still a long trek ahead.
The last hour was really tough going as all limbs and joints were aching. The final track through the forest was welcoming cooling, but seemed never ending. At last we reached the car park and so my victory salute!
Our walk had taken us eight hours. I am in my late 70s so I did feel a great sense of achievement and I hope others will be spurred on to follow in my footsteps.
Jarvis meanwhile set out with his parents and younger sister with the aim to only go as far as Soda Springs. However, before long he decided he wanted to "walk over the mountain" with his dad and family friend, and Tongariro Crossing Lodge owner, Louis van Wyk.
"Jarvis was determined he wanted to do the whole hike - there was no talking him out of it," says Louis.
"I wasn't sure if a six-year old could do the full Tongariro Alpine Crossing, but Jarvis proved to be a real trooper! While he needed only a little bit of encouragement on the steep part and a couple of shoulder rides, he was still full of beans toward the end. He even sprinted the last few metres!"
Joan and Jarvis' stories remind us that with the right attitude, age doesn't have to be a barrier to getting out and enjoying the splendours of the Tongariro National Park.
A Cautionary Note
It is worth noting that Tongariro Alpine Crossing is a serious hike, not to be taken lightly no matter your age. You do need to prepare and train for the hike. After all, it is a 19.4km trek across and over a mountain, and will take most people at least seven hours to complete.
The recommended start age for hikers on the Tongariro Alpine Crossing is 10-12 years old. While some younger children may be able to complete the hike with no difficulty, others may tire and need to be carried. It is extremely difficult to carry a small child safely over the Crossing track as parts are quite rough and uneven. In addition, a person carrying a child may not be able to protect themselves if they trip or stumble. They may also fall on and injure the child being carried. Rescues in these circumstances place an unnecessary burden on local rescue services.
So, if you feel you may need help along the way, be sure to book a guided trip with the experts such as Adrift Outdoors and Adventure Outdoors in National Park Village.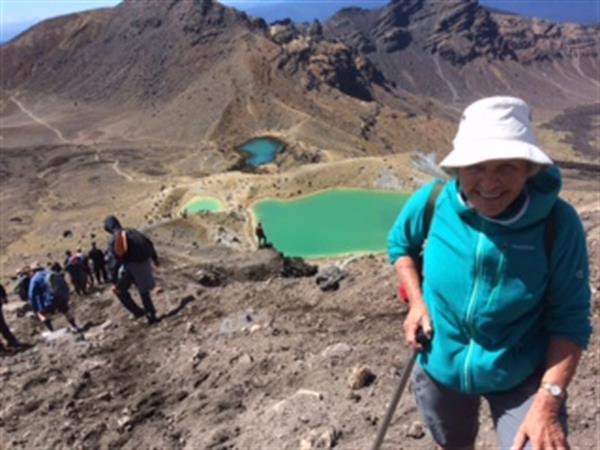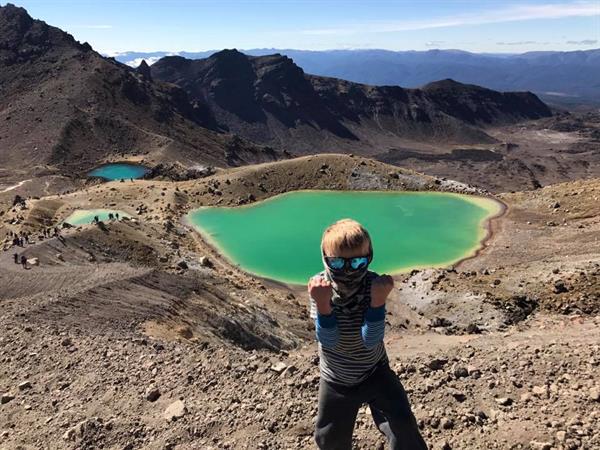 ---
Posted in Blog on 16 December, 2017
Latest Posts
04 October 2023
Tongariro Alpine Crossing booking system now live
---
28 June 2023
The 2023 Mt Ruapehu winter season is ON!!!
---
02 May 2023
Inaugural Alpine Vintage & Classic Autoshow launches King's Birthday weekend
---
Categories