E-bikes come to town!
It's now possible to explore our area with ease on an e-bike! E-bikes are now available for hire in National Park Village from My Kiwi Adventure and The Alpine Centre.
---
Electric bikes (e-bikes) are becoming increasingly popular and are now available for hire in National Park Village!
Two local operators now offer e-bikes for rent in the village. Mountain bike rental and adventure activity specialist, My Kiwi Adventure, has just added e-bikes to its fleet, while The Alpine Centre started renting out e-bikes earlier this year.
"E-bikes are a great alternative option for those with limited mobility or health to get out and experience not only the trails the Ruapehu region has to offer, but also the exhilaration of cycling with partners, family and friends," says Ray Goff of My Kiwi Adventure.
"Our E-Green Sport is the ultimate all-rounder - an electric bike with the versatility for everyday riding with three different assist level modes."
The Alpine Centre's Shona Forbes says e-bikes give people the enjoyment of adventuring the area and views without worrying about their fitness level.
"Our e-bikes are easy to ride and are ideal for the half-day rides that start and finish from National Park Village like the Marton Sash and Door and Fishers tracks, or my favourite - riding to Whakapapa Village. This is a great ride for those with a half-day to spare, and is even better now Highway 47 has fewer vehicles on it," says Shona.
"Taking in the magnificent views of the volcanoes, lock your bike and explore the Tongariro National Park Visitor Centre, take in a short walk to Taranaki Falls or Silica Rapids, then have lunch at Pihanga Cafe or High Tea in the Chateau. On the ride back, it's a short stroll to Tawhai Falls or stop for a quick dip in Mangahuia Stream."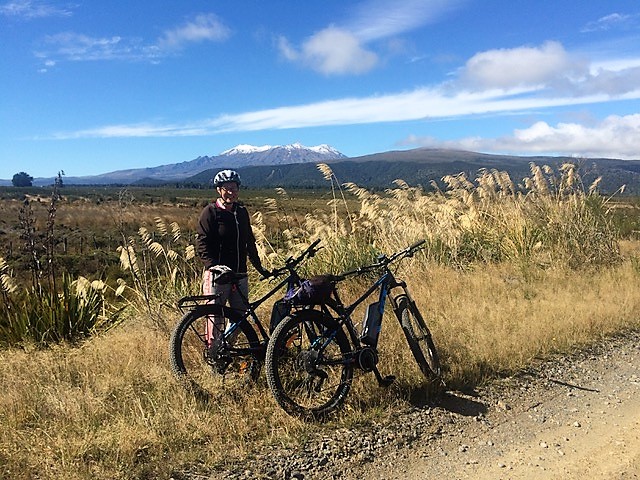 For more about My Kiwi Adventure's e-bike rentals and other adventures packages visit: http://www.mykiwiadventure.co.nz/
And to find out more about The Alpine Centre's offering visit: https://thealpinecentre.co.nz/e-bike-rental/.
---
Posted in Latest News on 11 December, 2020
Latest Posts
14 March 2022
Find Things To Do On Our Cycle Trails
---
13 January 2022
Ride Sky Waka
---
01 August 2021
National Park Village Mobile i-Site
---
Categories